The (Shrinking) Post Covid Church: Most Americans Are Unchurched
As if we needed one more piece of evidence to illustrate the lagging influence of the Christian faith in our culture: The most recent Gallup survey shows that for the first time in its polling history church membership has fallen below 50%. Just 20 years ago it was 73%
That's a drop of more than 20 percentage points in just two decades.
Think about it. More than 1/2 of Americans are unchurched.
This should not be a surprise, considering the number of "Nones"….those without a religious affiliation…now represent almost one out of four Americans.
On the bright side: The mission field just got bigger. Is that how YOUR church sees it?
https://news.gallup.com/poll/341963/church-membership-falls-below-majority-first-time.aspx
Rapidly Shifting Foundations of Morality
Nothing has change more quickly in the culture than the definition of marriage, and that rapid change is also now upending other traditional ideas about sexuality, morality and even what it means to be a man and a woman. These are all key issues upon which the Christian faith is founded.
A recent post illustrated not just the rapidly changing cultural opinion about gender and sexuality but also the need for The Post Covid Church to more effectively understand and teach what it means to be made in God's image. (Missing The Real Sexual Question).
How did it all move so fast? While there is no one cause, the impact of the entertainment media has been overwhelming. Long before TV and the movies, Scottish writer and politician Andrew Fletcher (b. 1655) famously said,
"Let me make the songs of a nation, and I care not who makes its laws."
Those "songs of a nation" in our time have increasingly rejected any nod to biblical norms (when is the last time you saw a thoughtful, reasoned defense of traditional marriage in a movie or on TV?) and leaned almost exclusively on feelings and emotion. The polling results from Gallup indicate not only how quickly our nation has changed, but also the reason there will be persecution for those holding traditional sexual values. Yet one more opportunity for The Post Covid Church to fruitfully engage.
Do these Gallup poll results surprise you?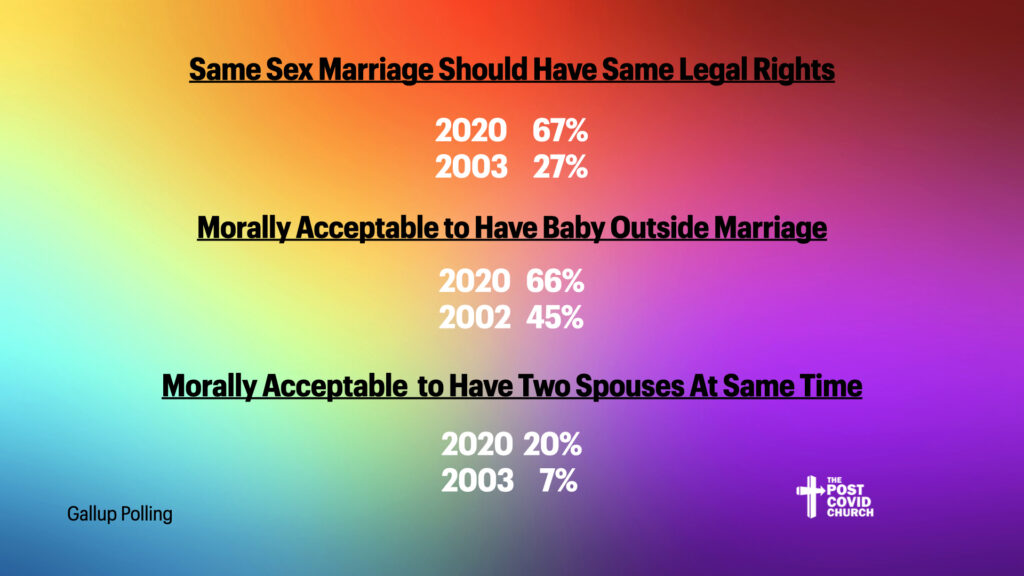 Here is a link to the full Gallup survey:
https://news.gallup.com/poll/117328/marriage.aspx?utm_medium=email&_hsmi=110770871&_hsenc=p2ANqtz-9IzcwxHZ2S-71IWifN9fQpH3AKVfQXzV1UtO8uf7-MmHoMGqTGoeinm148A9rCjzh2wJvRseKKnpyq6jkQYT2WlVQIVw&utm_content=110770871&utm_source=hs_email
Pandemic Strengthens Faith
The Covid-19 pandemic has not only upended the economic and political world, it's also of course had a big impact on the Christian faith. As The Post Covid Church project highlights, it's altered the way churches responded—-and haven't responded—-to their communities of believers and unchurched neighbors.
The latest Pew Research Center survey, recently released but conducted last summer, shows that faith among Americans has gotten stronger, as have family relationships. The impact is strongest among poorer Americans. The survey also shows family relationships have strengthened.
What better foundation for The Post Covid Church to build upon!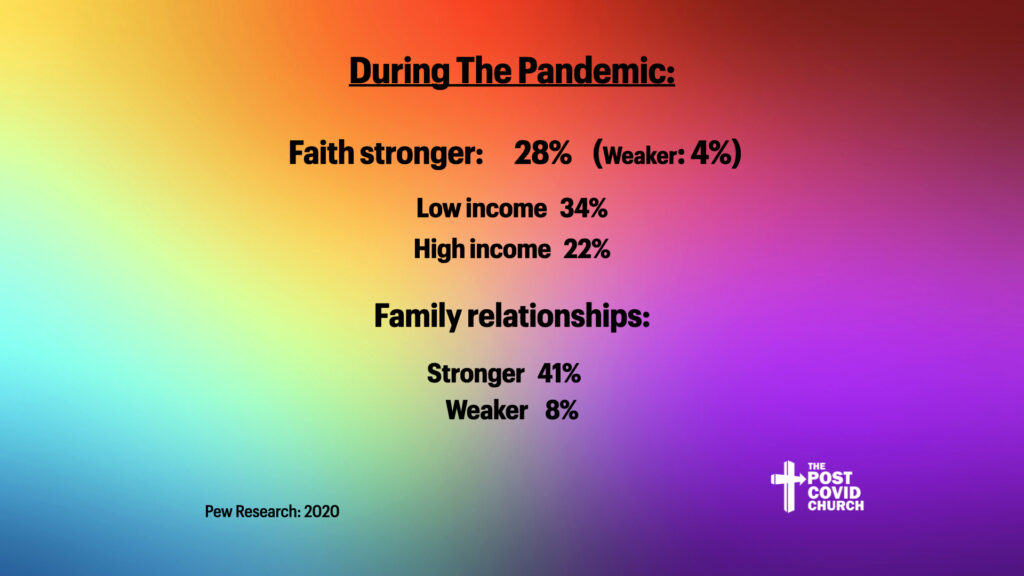 Click here for the entire Pew study:
America: Churches Help Less Than Government
Here is a damning survey of Americans comparing how prepared and helpful the government and churches have been during the pandemic. While churches were given more credit than government for being prepared, they were deemed the least helpful.
As feared, too many churches pulled in instead of reaching out when the going got tough. America noticed. This is one more barrier The Post Covid Church must overcome to regain its influence in our culture.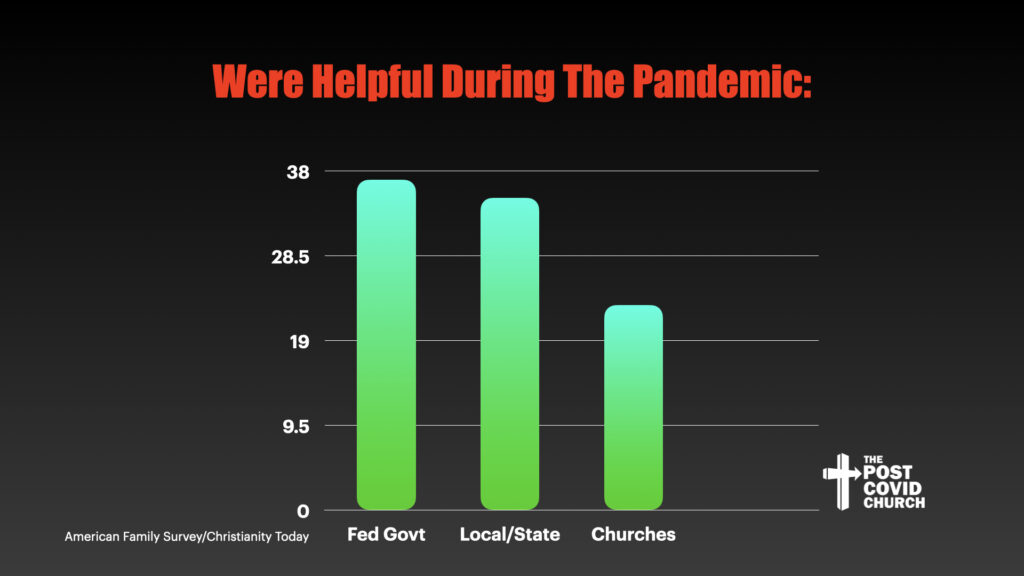 Going Forward?
Time to re-set. Time for feedback to determine the future of The Post Covid Church .
The project started shortly after the doors closed, and has focused on how the church is reacting, and ways it must change, to regain its influence in the culture. The mission statement: "Helping the church plan and serve the post pandemic world."
From its beginning as a Facebook Group, it has expanded and now includes:
The goal of The Post Covid Church is to encourage engagement from members, and for you to share some of the ideas presented by contributors with your church staff and lay leaders.
The fact is, fewer people are visiting and engaging. So, it's time for some feedback. Please take a moment and let me know what you think:
The project has run its course.
The focus in 2021 should be on: ______________
Here's what I'd like to see/read about: ________________
I hope you'll post your comments, or send them to this special email address:
I'll resume posting with results from the survey on January 7th. Here's to a very Merry Christmas season and to a wonderful New Year.
Stuart Kellogg/Founder-Publisher
An Opportunity For Answers
"In the midst of widespread spiritual lockdown the hunger of so many for God was stoked. (People) started asking deeper questions about life, death and suffering, how to be selfless, to grieve with hope."

Father Roger Landry/Quote in WSJ "Declarations"
Amazingly, we are only a few months from the first anniversary of the Covid-19 attack on America and the ensuing shutdown. The traumatic experience has made even those with little or no faith wonder about more than what they can only experience with their senses. One of the opportunities for The Post Covid Church is to provide answers to questions many in our community are now asking for the first time.
The Pew Research Center regularly surveys Americans about their faith beliefs and a recent report from the Center's American Trends Panel shows that a vast majority of Americans think there are lessons to be learned from the pandemic, although by a 2:1 margin, they don't think God is doing the teaching.
Below are the results. The full report can be found at https://www.pewforum.org/essay/what-lessons-do-americans-see-for-humanity-in-the-pandemic/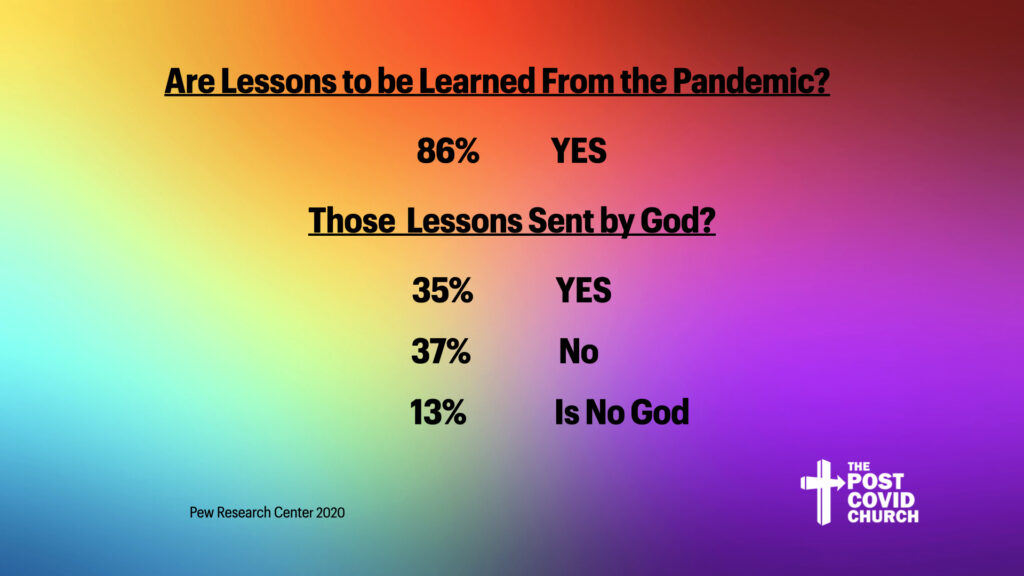 Disturbing Numbers
The Barna group just released results of its survey looking at how The Post Covid Church will operate in the wake of the pandemic and the widespread use of technology. As part of the project, "Six Questions About The Future of the Hybrid Church Experience ", it also reaffirmed earlier studies that showed a significant number Christians abandoning the faith. An even great number are waiting for normal to return. They will be disappointed.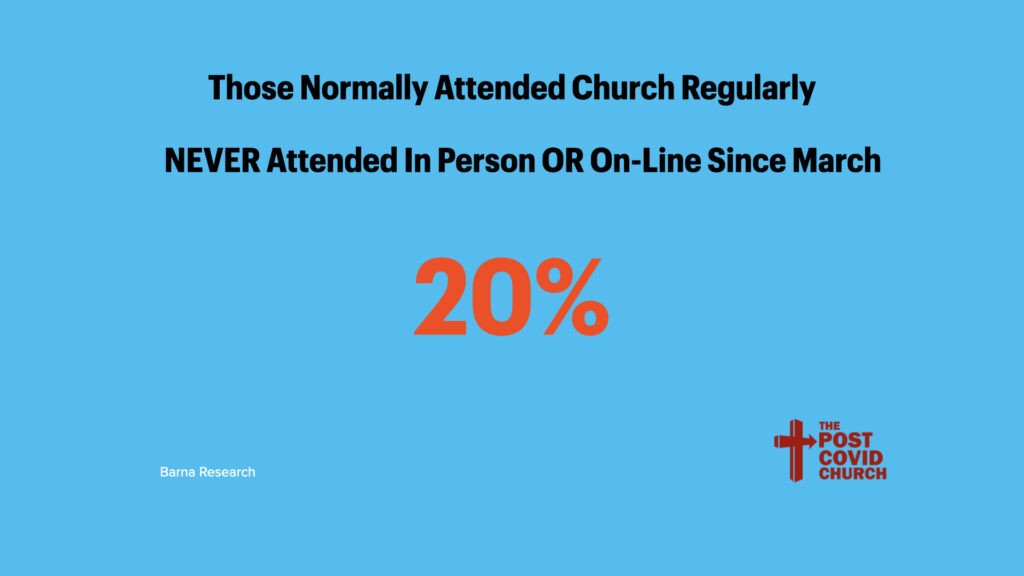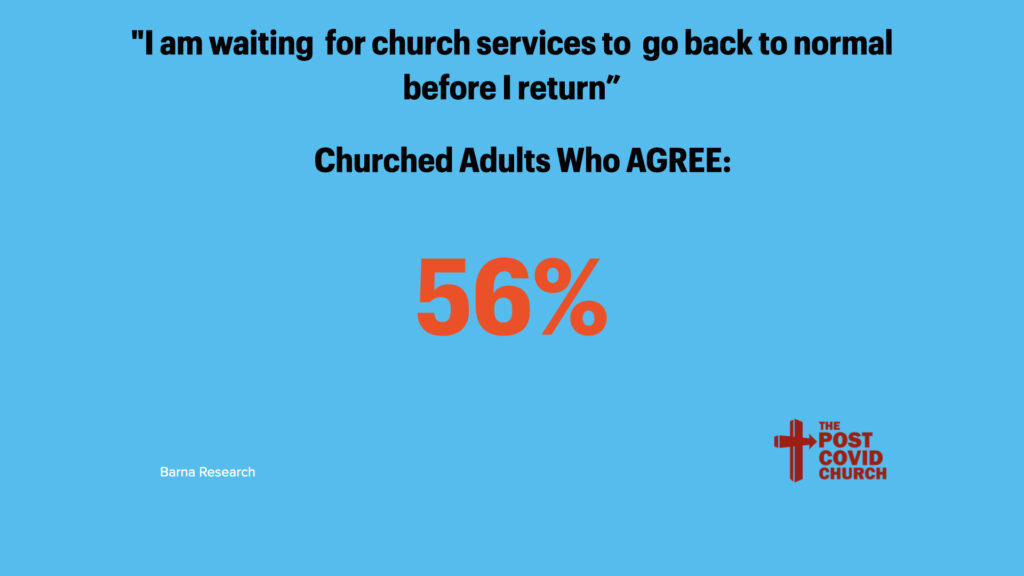 Fading Faith
Long before the pandemic closed church doors, the Christian church in America was in trouble. Here is proof, and more evidence that basic, fundamental changes must happen for The Post Covid Church to not just survive, but thrive.
They're Waiting for WHAT?
The Barna group just released results of its survey looking at how The Post Covid Church will operate in the wake of the pandemic and the widespread use of technology. As part of the project, "Six Questions About The Future of the Hybrid Church Experience ", it also reaffirmed earlier studies that showed a significant number Christians abandoning the faith. An even great number are waiting for normal to return. They will be disappointed.
It's EVERYBODY'S Job
How often have you heard, "that's the pastor's job"? The Post Covid Church has focused on church leadership and the need to tap the talent in the pews. It's not biblical, however, to leave all the church ministry to the ministers. For The Post Covid Church to thrive during and after this pandemic, we are ALL called to make disciples. That means building the body of Christ together.
The Barna group has been polling pastors throughout the pandemic, taking their pulse while they face this unprecedented upheaval. It will probably not surprise you that a recent study showed a disconnect, with a majority of church leaders admitting they are not aware of critical needs in the church. While too few churches have aggressively moved to stay hyper-connected during the pandemic, isn't it important for the members to be more deeply involved in connecting with their brothers and sisters?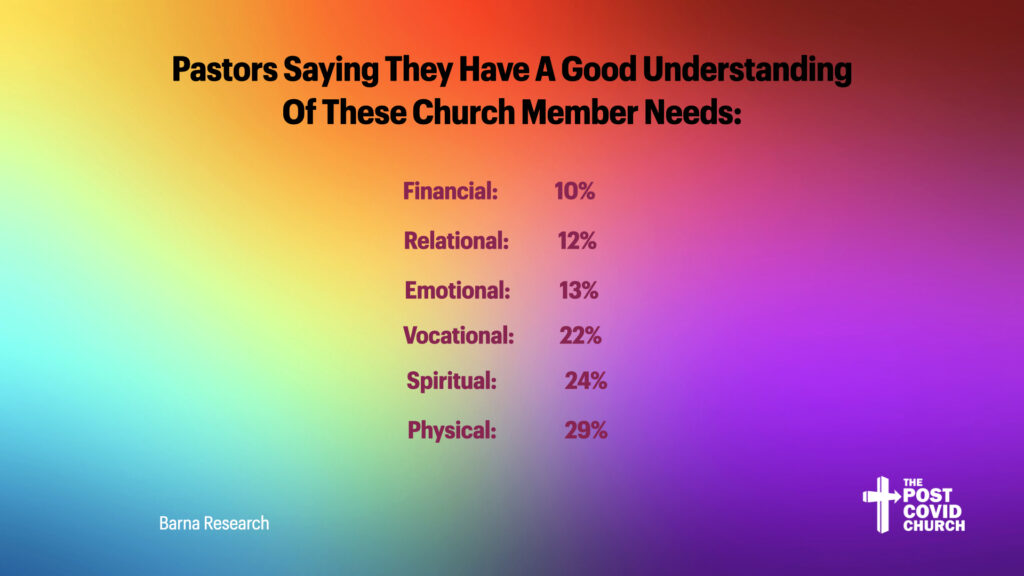 Church Restrictions: How Widespread?
Group member Tim Philpot was excited to see his friend preach at a church an hour away. Of course it's an unusual time, with more restrictions on in person gatherings. Still, he was put off by the bureaucracy surrounding this once easy process: Not only was there a detailed sign up procedure, by the time the church responded, the date passed and his opportunity was missed. He wondered 1) if churches putting up such barriers will soon be gone and 2) how unusual his experience was.
Results from our latest survey. Thanks to all who took part!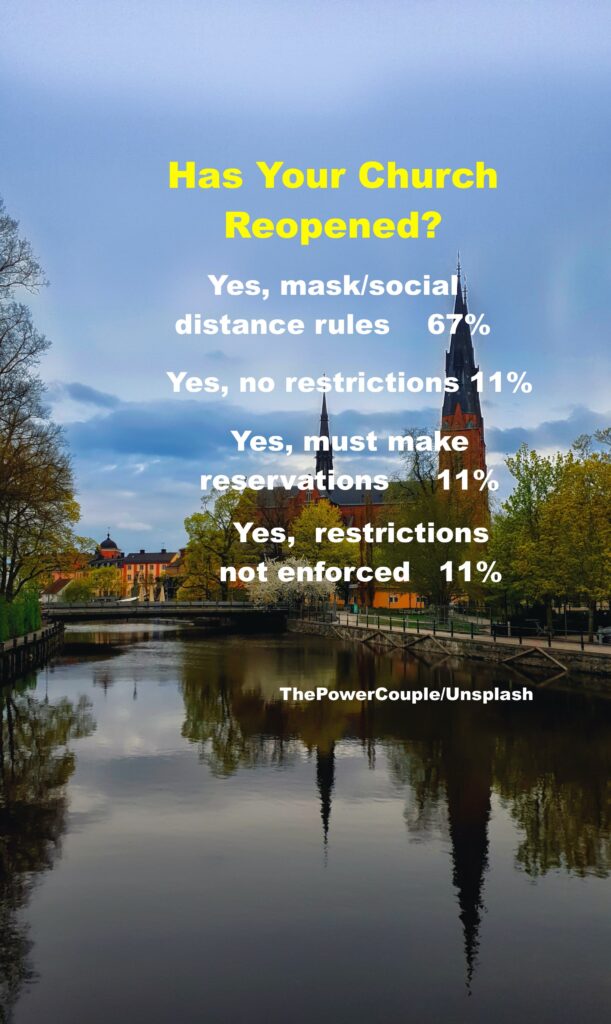 Back In The Racial Corners
You'd think it would help. You'd think, having the answer, the Christian faith, it would get better. You'd be wrong. The numbers show what many feared when it came to racial reconciliation: The gulf is wider between white and black Christians in the wake of the George Floyd killing and protests, with white Christians less likely to now say there is a race problem and less motivated to address racial injustice.
The results are from the latest Barna "Race and the Church" survey and they point to The Post Covid Church being less unified when it comes to addressing one of the national's biggest problems. Are you surprised?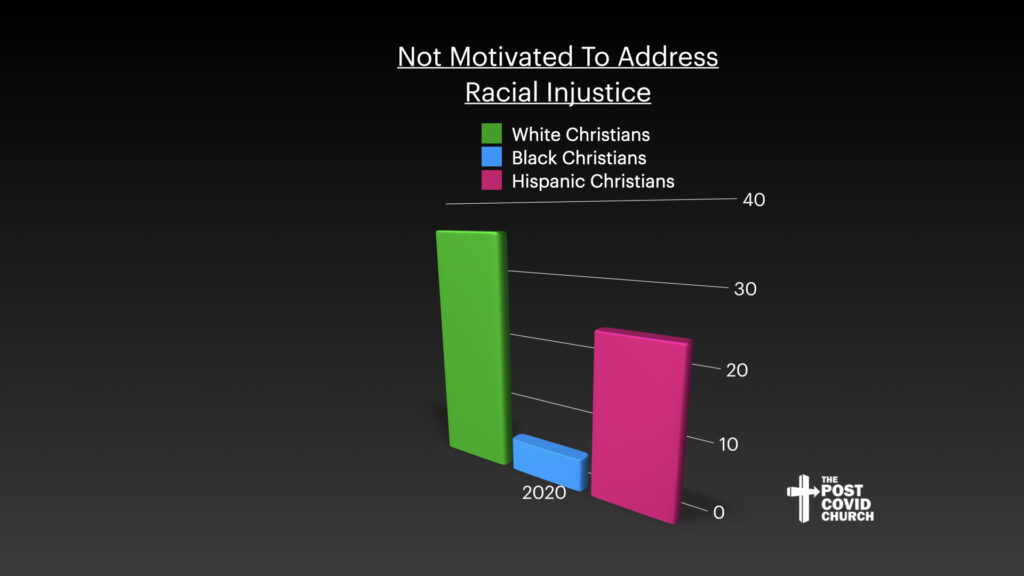 Bible Not Keeping Up With The Times…Survey Says…
"American Christianity is undergoing a "post-Christian Reformation"—with the nation's major Christian groups rapidly replacing traditional theological beliefs with the culture's secular values."

—George Barna/Arizona Christian University's Cultural Research Center
The results of the most recent snapshot of worldview beliefs held by Christians in America are disturbing, but they actually can help The Post Covid Church: reinforcing the need to make sure pastors and teachers focus on the biblical fundamentals that provide the foundation of the faith.
The most alarming results: Of those attending evangelical churches:
Almost half believe eternal salvation is earned and that the Bible is not clear about whether abortion is right or wrong.
More than one out of three believe lying is OK, reject the traditional concept of marriage and think it's morally OK to abort a baby if the birth will be a burden on the mother.
Note that unlike other surveys showing the weakening of Christian worldview among evangelicals, this study asked members of evangelical churches, not necessarily those who are evangelicals. "Oh, well, that's better," you might think. Actually, it's a condemnation of the teaching in these churches.
How can so many be led astray? Perhaps because the basics aren't being preached and taught.
In fact, this research showed that 28% of those attending evangelical churches are not born-again. Of course, the church exists to attract the hungry. What's clear from this survey, is that once in the church, too few are being fed.
Here's a link to the research from Cultural Research Center at Arizona Christian University.
https://www.arizonachristian.edu/wp-content/uploads/2020/10/CRC_AWVI2020_Release11_Digital_04_20201006.pdf
When Are You Going Back to Sunday School at Church?
It's clear from the survey results that there is a lot of apprehension about returning to small groups at church.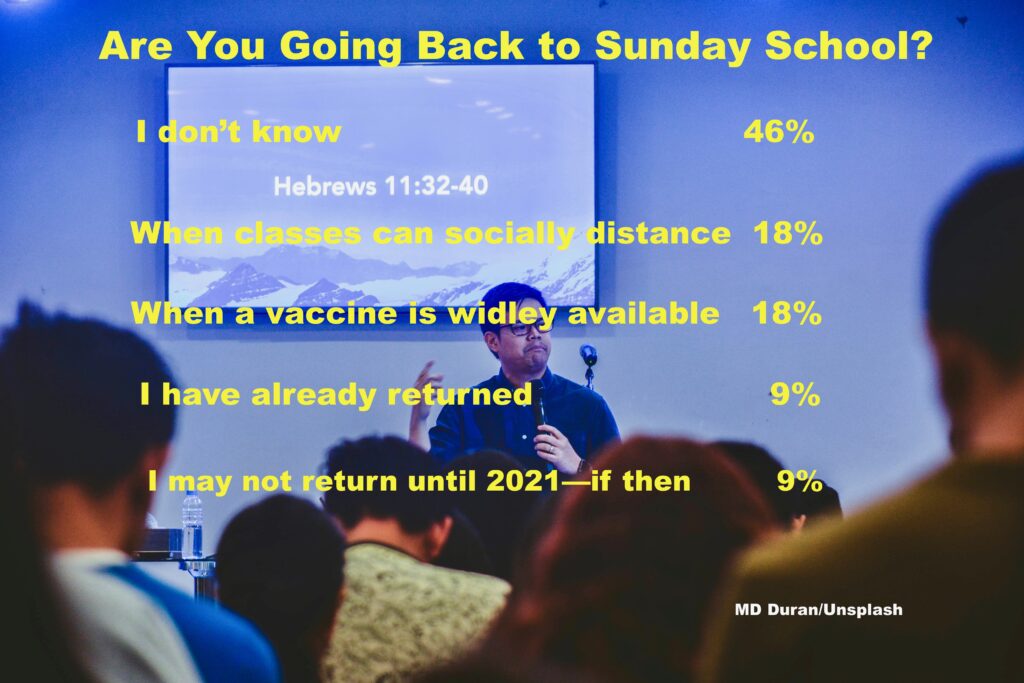 God Not Necessary To Be Moral
Do you need to believe in God to be moral? Pew Research took on the massive task of investigating that correlation around the globe, asking more than 38-thousand people in 34 countries. The US answer is "NO".Fewer than half of Americans say belief in God in necessary to be moral. Oh, and as if Christians don't have enough stereotypes to battle, the more wealthy and educated you are, the less likely you are to say God is important.
See the full story at https://www.pewresearch.org/global/2020/07/20/the-global-god-divide/
Politics and Christianity: Survey Results
The Post Covid Church group members were evenly split on how involved Christians should be in politics. There is a strong consensus, however, that no matter how the November elections turn out, the challenges to religious freedom in this country will continue: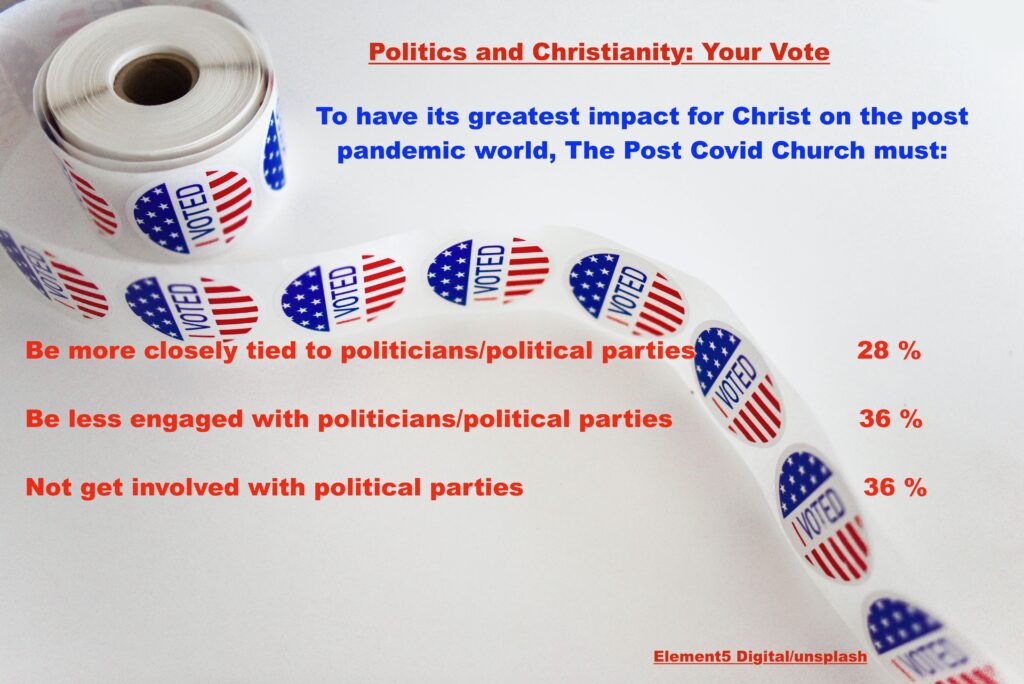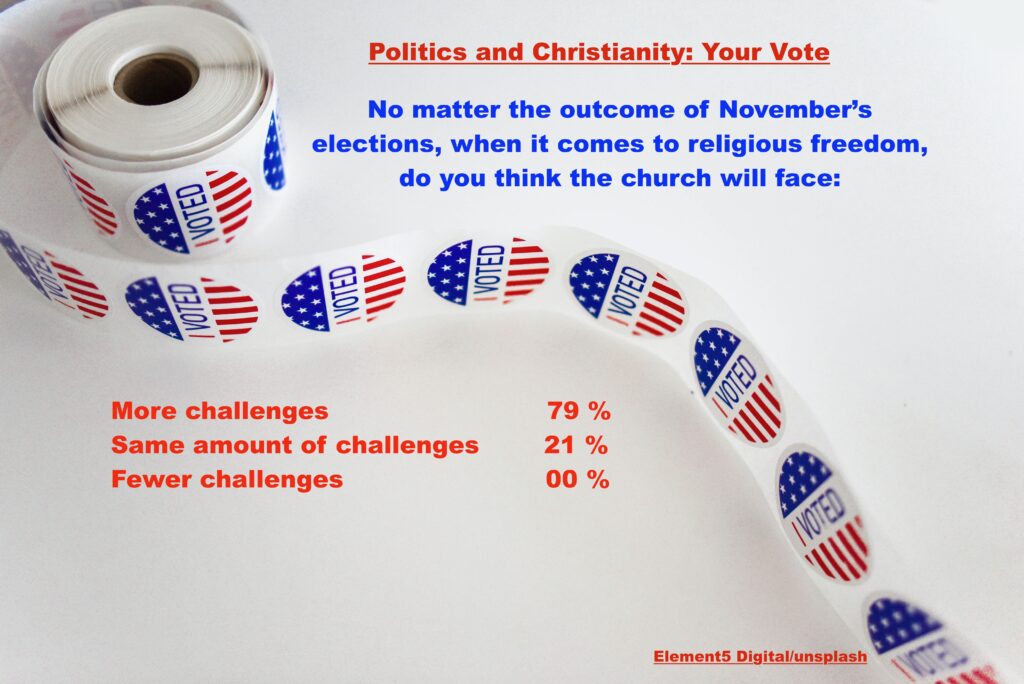 Your Church's Future: Results
The good news is The Post Covid Church group members responding to the most recent survey are unanimously convinced that their church will be open a year from now. There is a consensus that there will be fewer members but a significant number are optimistic about their church's outreach.The survey was conducted in light of the recent Barna research showing that only a little more than half of the pastors are very confident that their church will be open in mid-2021.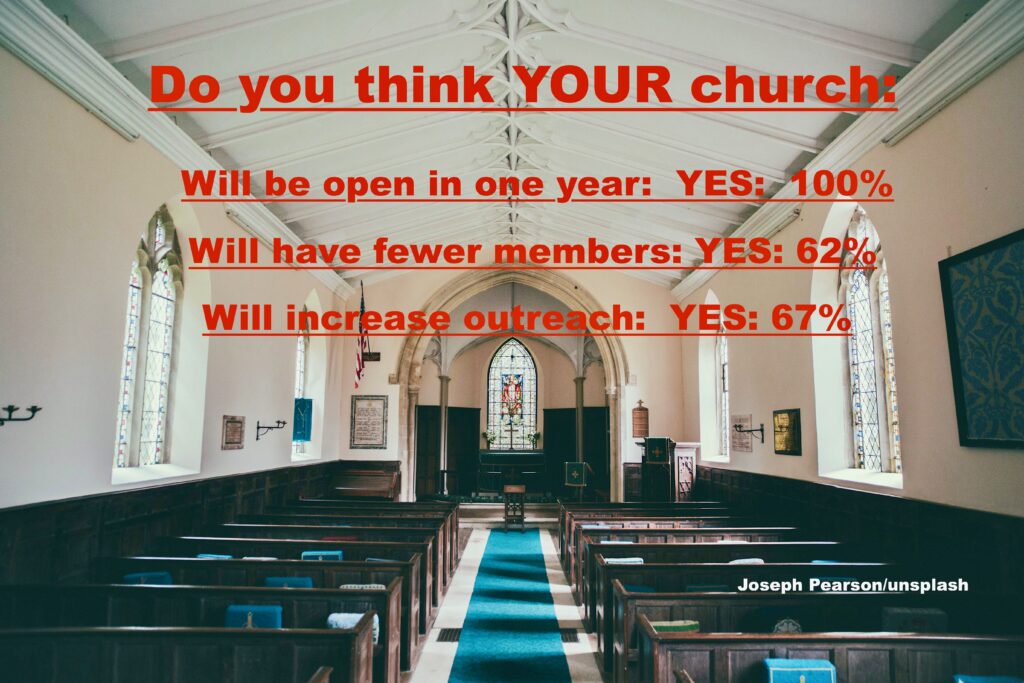 Back To Basics…Or Else
As if we needed more proof that the body of Christ is quickly losing its influence on the culture. Quite the opposite is happening. The article below provides one more piece of proof that if The Post Covid Church doesn't focus on what C.S. Lewis called "Mere Christianity"…..the basics….there will be little reason for The Post Covid Church to exist. Your reaction?????https://www.christianpost.com/church-ministries/more-than-half-of-us-adults-30-of-evangelicals-believe-jesus-isnt-god-study.html
Beyond Salvation: Happier Life Here….
A recent post highlighted the Barna survey showing one out of three "practicing Christians" have dropped out: They're no longer attending services in person or on-line. The numbers reinforce the importance of churches aggressively reaching out to their members and their communities.Another insight from that same survey probably won't surprise you, but is reassuring nonetheless: Those folks who dropped out, are three times as likely to feel bored "all of the time", and much less likely to say they're "not anxious about my life, as I have an inner peace from God". A few more talking points as we share our stories about our life in Christ……https://www.barna.com/research/new-sunday-morning-part-2/
32% of Church Goers Are Gone….
With one out of three practicing Christians in America no longer worshipping even on-line, shutdowns expanding and a nation-wide vaccination inoculation unlikely until early 2021, reality should be hitting: Churches doing little to stay connected to their members or communities have little hope of returning to pre-pandemic size or influence.
The Barna group's research is a big concern: 32% of those identified as "practicing Christians" say they haven't attended a service or even watched on-line since the shutdown.
These folks are the ones who say 1) faith is important to their lives and that they 2) went to church at least once a month before the pandemic. (Notice how low the bar is now set for practicing Christian—a topic for another day…)
Why have they dropped out? While the study didn't ask, based on the response of The Post Covid Church Group—-with half responding to a recent survey saying their churches didn't reach out to them or expand outreach into the community—-a lot of the blame clearly lays at the feet of church leaders. Think about it. With one out of three of those who at least bothered to show up once a month before the shutdown no longer engaged, how many nominal Christians, or those hurting and searching, do you think have given up hope?
What should churches do NOW to save themselves from irrelevance?https://www.barna.com/research/new-sunday-morning-part-2/
Changing Church Negligence
The recent survey of The Post Covid Church group shows about 1/2 of respondents' churches have not called members or done any extra community outreach during the pandemic. This will have a lasting impact on those churches' viability and their witness and disciple making abilities.
A Resource for Your Church Leaders
How can you help make a change?
Make sure your church leaders, including staff, see what those who are reacting to this crisis are doing in their communities. The short video clips and posts on this public site, and all The Post Covid Church Podcasts available on many platforms (simply click at http://bit.ly/postcovidpodcast to choose), are designed to help churches plan and serve the post pandemic world.
Help your church leadership plan and implement ways to reach those inside and outside the church during these stressful times.
It's not too late!