Your Pastor is Probably Thinking of Quitting
One of The Post Covid Church themes is the importance of leadership during these contentious times. A recent podcast (Letting God Lead) focused on re-thinking church and ministry leadership. Another tackled the importance of purpose (Purpose), and how pastors and teachers need to make sure followers of Christ embrace the Christian worldview and not think of the faith as just belief. What also needs to be stressed today is the increasing stress on pastors.
PROBLEM: Here's a recent headline from a Barna survey that should make you pause: "7-Year Trends: Pastors Feel More Loneliness & Less Support". "Pastors are no strangers to feelings of loneliness and isolation," the report says. "In fact, Barna's historical data show that these feelings have increased significantly since 2015 when 42 percent of pastors shared they either frequently (14%) or sometimes (28%) felt this way. Now, 65 percent of pastors report feelings of loneliness and isolation, with 18 admitting these feelings occur frequently." A survey released last month from from the Hartford Institute for Religion Research shows that 49%—one half—of clergy said they "seriously considered leaving pastoral ministry."
Now, anyone involved in church knows about the pressure on pastors. In these hyper-polarized times, that's only gotten worse. Here's a good example: A former Southern Baptist official says several pastors have told him they've been criticized by parishioners for being too liberal after quoting Christ's Sermon on the Mount.
It's adding up to an astounding finding: Almost half of pastors surveyed by the Barna group last year said they've thought about quitting. "As of March 2022, the percentage of pastors who have considered quitting full-time ministry within the past year sits at 42 percent," according to the report. "This is consistent with data from fall 2021 when Barna first reported on a sharp increase in pastoral burnout, and it confirms the growing number of pastors who are considering resignation—up 13 percentage points from 29 percent in January 2021." The immense stress of the job is reason one.
SOLUTION: America is less religious than ever in its history, and the secularization goes far beyond people simply walking away. Holding foundational, biblical views on marriage, sexuality and justice are now viewed by an increasingly hostile culture as not just wrong but worthy of punishment. Isn't this the time for the church to unite to fulfill its mission to make disciples? Instead, there is more internal debate. Yes, pastors and staff need to be more willing to give up power and engage the "talent in the pews". So too must members be more graceful and open to the fact that pastors are people too.
Rev. Dr. Glenn Packiam is author of The Resilient Pastor. In Barna's The State of Your Church report he wrote, "We need sages to advise us, leaders to direct us or hold us accountable, peers to remind us that we aren't alone, healers to dress our wounds and companions who carry us when we can't carry on." A good first step: Take your pastor for coffee and ask, "How's it going….?"
Pastor Loneliness Study https://www.barna.com/research/pastor-support-systems/
Pastors Quitting Study Barna https://www.barna.com/research/pastors-quitting-ministry/
Pastor Quitting Study Hartford https://www.covidreligionresearch.org/wp-content/uploads/2023/09/Epic-4-2.pdf
Podcast on Leadership: https://www.thepostcovidchurch.com/2023/08/letting-god-lead/
Podcast on Purpose: https://www.thepostcovidchurch.com/wp-admin/post.php?post=1205&action=edit
#pastors #pastorsquitting #faith
March Madness Lessons for The Post Covid Church
Even if you aren't a college basketball fan, you've probably heard about St. Peter's and the Peacocks' history making run of wins in the NCAA basketball tournament. You probably don't know that the team's leader, in the midst of a Covid shutdown, took an approach that holds critical lessons for every church leader right now.
The tiny New Jersey school was seeded 15th in the NCAA basketball tournament. That meant it was considered one of the weakest teams to qualify. It also meant it had to play one of the strongest: The University of Kentucky. Most know the rest of the story: St. Peter's is the first 15th seed to ever win three games in a row and make it to the "Elite Eight". The Cinderella story ended against powerhouse North Carolina, but it captured the attention of the nation and now provides some critical, inspirational lessons to help The Post Covid Church.
Covid ravaged the team in December, knocking ten athletes out and forcing St. Peter's to suspend play for almost a month. Oh, and it's not as if the Peacocks were flying high when the team was hit; its record was 3-6 when coach Shaheen Holloway realized he was going to have to rethink everything.
He reached out to those he trusted. For example, he was counseled to ease in slowly those ten infected players. So, the starting lineup that first game back was made up of the five players who didn't get Covid. (St. Peter's won.) In fact, during the first two months after resuming play, he used players off the bench for almost half the team's minutes. That was the highest rate of any college basketball team in the country.
To lead his invigorated team on its historic run, Coach Holloway used the down time to "get back to the drawing board and get back to what we do best. And that's defend."
In other words, Covid forced the leader to stop, step back, rethink and focus. He wasn't just waiting for the virus to pass. He wasn't just going back to what he always did. He was forced to look in the mirror, admit where he'd lost focus, and lay out a plan. Then, of course, the players executed that plan.
It's not too late for those churches——most churches——that are still struggling as the new realities hit.
What is the focus of your church? (Christ laid out priority one: make disciples.)
Where are the talented people leaders have overlooked? (In the pews.)
What is the first step in making changes? (Humility.)
May this March Madness inspire more than just basketball fans.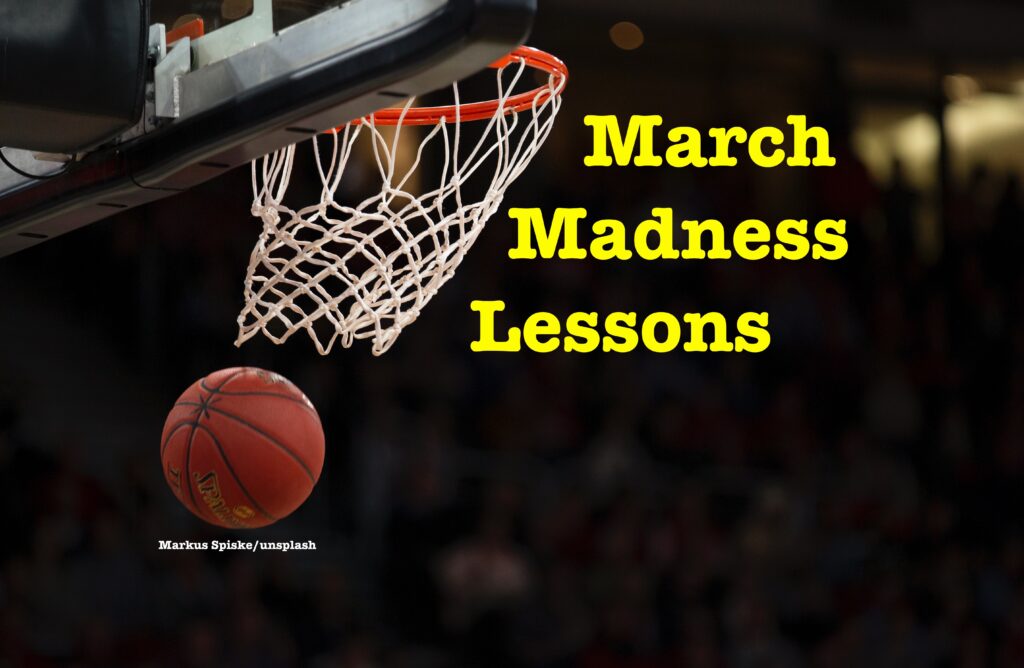 Is Your Church Leadership Willing?
Peggy Noonan's weekend column focused on the pandemic's impact on culture and her opinion that we really don't appreciate how devastating the fallout will be. For young children. For big cities. For everyone.
Her quote in the accompanying graphic summarizes nicely what The Post Covid Church project has shared for almost a year. It's what all in the Body must ask as we face the "new normal".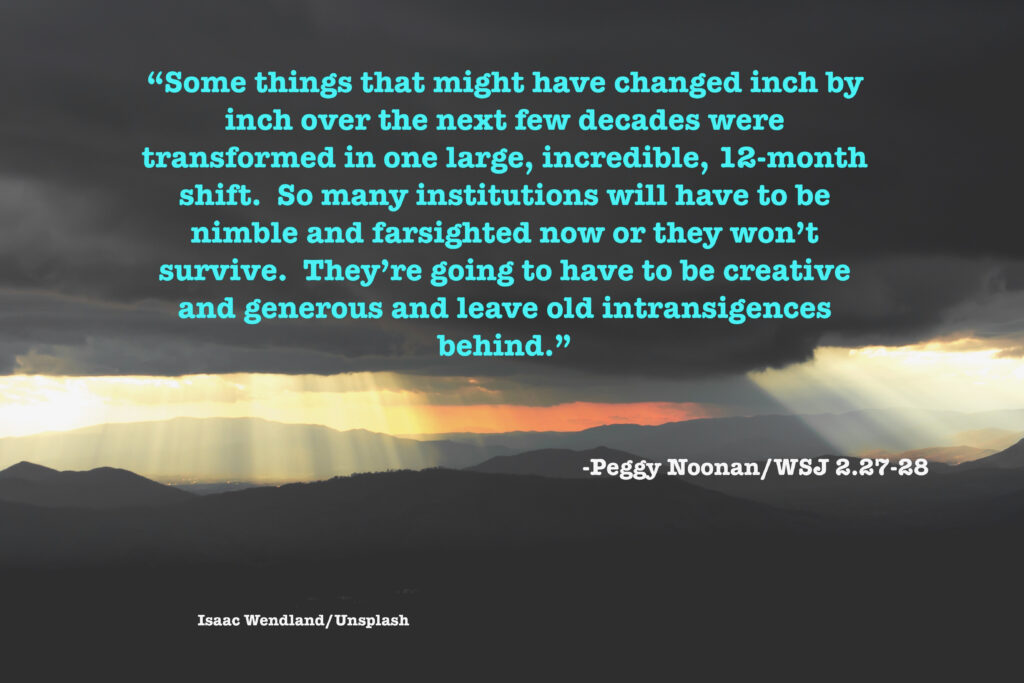 Focusing On The Future
As millions of Americans are vaccinated each week and the infections and hospitalizations drop, the new normal for congregations is on the horizon. This project has shared what congregations are doing across the country to help The Post Covid Church fulfill needs and focus on its core missions during these tumultuous times. It's also included concrete leadership strategies and tactics from the leading experts who are focused on helping the church not just survive, but thrive.
The attached article from Barry Winders contains some familiar thoughts for regular Post Covid Church readers along with some new helpful perspectives. Thanks to contributor Clyde McDonald for sharing it.
https://www.churchleadership.com/leading-ideas/what-will-your-church-look-like-post-covid-19/
Arrogance of Power: Dereliction of Duty
Ravi Zacharias's teachings have had an immense impact on my life. Anyone who has read his books or heard him speak—-I heard him for the first time while a student at Wesley Biblical Seminary 20 years ago—knows the power of his words and incisiveness of his arguments. Now, less than a year after his death, the world finds out that one of the most beloved and powerful apologists for the Christian faith led a double life that will make the work of The Post Covid Church all that much more difficult.
A Wake Up Call for Lay Leaders: Don't Be Afraid To Lead
As the horrendous sex scandal within the Catholic church has given millions a reason to turn away, so too will this scandal deeply tarnish the church's witness. Far worse than the most vitriolic atheist are the "sheep in wolves' clothing" who cause those outside the church to shake their head and walk farther from the faith.
As this excellent article from David French explains, it's more than Zacharias who is to blame. Those in position to know better refused to see what they didn't want to see. It's a reminder for The Post Covid Church that those who for selfish reasons refuse to keep their eyes open will also make the task of fulfilling the Great Commission harder today than it was yesterday.
And it's not just sex. Sometimes it's just power. Leaders who aren't truly accountable, are crippling the faith.
https://frenchpress.thedispatch.com/p/you-are-one-step-away-from-complete
Quit Focusing On Sunday!
The pandemic has not only thrown all congregations into crisis mode, it's also sped up the need for church leaders to re-examine their focus and make much needed changes now.
"COVID revealed a fundamental weakness in the Church. Most churches only have one purpose: worship. And if you take worship away, you've got nothing. They're in a hurry to get back to worship because that's all they've got."

Senior Pastor Rick Warren/Saddleback Church as told to Relevant Magazine
The Future Church Co. focuses on strengthening church leaders—-staff and lay——and helping them lead congregations that more effectively fulfill the Great Commission: To make disciples.
In this short video, Co-founder and CEO Kelly Kannwischer explains that the pandemic's impact has only accelerated the need for change. That includes the misguided focus on Sundays.
You can listen to my entire conversation with Kelly and learn how your church can more effectively lead on The Post Covid Church Podcast, bit.ly/postcovidpodcast.
High Capacity Leadership
The Post Covid Church will face more challenges than ever after the pandemic is over and the barriers to in-person worship are gone. It will take extraordinary cooperation between staff and laity to thrive in the new environment. That won't be easy.
The good news: There is a lot of talent to be tapped! Greg Ligon's mission is strengthening church leadership, and in this short video, learn how your church can grow high capacity leaders.
You can listen to my entire conversation with Greg, including his predictions on how the multisite church will soon be a wide ranging reality, on The Post Covid Church Podcast :
bit.ly/postcovidpodcast.
You can download a free copy Greg and Geoff Surratt's latest ebook "Multisite Reimagined" by visiting https://resources.generis.com/multisite-reimagined
What Now?
A riotous group of Trump supporters, some carrying Christian flags, storms the U.S. Capitol.
A nation more divided than at any time since the Civil War retreats to its ideological corners.
A Christian pastor wins a decisive US Senate seat and puts the Democrats in control.
A United Methodist official calls for the removal of President Trump.
A Southern Baptist official says he'd vote for impeachment, and adds that he doesn't care if it costs him his job.
An Evangelical leader, whose institutions have shown the world what being the hands of feet of Jesus to the hurting looks like, compares the Republicans who voted to impeach President Trump to Judas.
"What does it say about us if the first name that comes to mind when our neighbors hear 'evangelical' is not 'Jesus'?"

— Bonnie Kristian / Are Evangelicals Just A Voting Bloc?——Christianity Today
May this be the perfect time for The Post Covid Church to regather and illustrate what it means to be filled with Christ and prove that His way is the only way for true, meaningful, powerful healing? Or is that wishful thinking?
U Methodist: https://www.al.com/life/2021/01/methodist-leader-supports-impeachment-calls-on-senate-to-bar-trump-from-office.html
Southern Baptist: https://sojo.net/articles/russell-moore-tells-southern-baptists-trump-should-be-removed
Judas: https://www.newsweek.com/franklin-graham-compares-10-republicans-who-voted-impeach-trump-betrayal-christ-1561809
Reimagining The Post Covid Church'
With 1 in 5 churches predicted to close, it's time for a re-set
It's amazing how a crisis can suddenly make the unthinkable thinkable. Greg Ligon has spent his post-pastoral career focused on leadership development and has written several books about the "multisite" church movement. What was once an oddity is now normal: Every church that shut down and streamed was suddenly a multi-site church!
The Post Covid Church will have to embrace at least some aspect of the multisite model to thrive because the pandemic has changed forever how people see and experience church. It means a large percentage of churches—-some estimate one in five—-will soon close.
In this short clip, Greg explains that mergers are suddenly an option.
You can listen to my entire conversation with Greg, including how high capacity leadership is critical for The Post Covid Church's survival on The Post Covid Church Podcast (bit.ly/postcovidpodcast).
You can download a free copy Greg and Geoff Surratt's latest ebook "Multisite Reimagined" by visiting https://resources.generis.com/multisite-reimagined
Do Christians Not Yet Get It?
As with everything in our modern culture, even an event as deadly, dangerous and demonic as the takeover of the US Capitol starts to fade far too quickly, replaced by "something else". We see that now as all those who at one time were virtually unanimous in their condemnation of the President's incitement, start playing the "Yes, but…." game.
That includes conservative Christians. Do evangelical Christians not get it? The world is watching!
Dr. Jim Denison, Chief Vision Officer and co-founder of Denison Ministries in Monday's Daily Article points out in disgust how many of the rioters carried Christian flags as they rampaged, terrorized and killed in the Capitol. Proudly saying, in effect, "This is Christ in action."
THIS is why The Post Covid Church faces far more than a pandemic induced problem. Exhibit one: This article in The Atlantic. ( https://www.theatlantic.com/politics/archive/2021/01/evangelicals-catholics-jericho-march-capitol/617591/ )
No, The Atlantic is not a favorite of conservatives or evangelicals, but its readers are exactly who Christ calls us to minister to and disciple.
John spoke truth to power and end up headless.
As Christianity becomes more politicized, and those who most proudly speak of their faith in Christ refuse to call out unrighteous behavior wherever they see it, the church will continue to weaken.
I thought of all this as I taught a lesson on Luke Sunday. While John the Baptist is best known for his time preparing the way for Christ and calling men and women to repent, it's clear that he quickly got in trouble because he refused to pull his punches. John spoke truth, God's Truth, to power. He called out the sinful behavior of the man overseeing Galilee for the ruling Romans and ended up in prison and then headless.
May this sad, sad time in our country's history be not just a wake up call to our nation's leaders, but more importantly to all Christians—-not just pastors—- for us to put the Word of God we claim to love into practice, no matter who is offended. If The Post Covid Church is to regain its influence for Christ in our culture, the leaders must lead.
Will Any Pastors Dare to Offend?
As the dead were counted and the debris from the failed US Capitol takeover swept up, I remembered the most poignant scene from Mississippi: The Long Hot Summer. William McCord's searing civil rights book recounts a pastor in Jackson arriving to bring his condolences to a local rabbi whose synagogue and home were both firebombed by the KKK. Rather than a thanks, Beth Israel's leader, Rabbi Perry Nussbaum, pointed his finger at First Baptist's senior pastor Dr. W. Douglas Hudgins and said, "I blame you!"
Why? Because, the rabbi said, Hudgins was silent. He hadn't used his influential post in the pulpit of the largest and most influential church in Mississippi's capitol city to condemn the hate and death engulfing the South in 1964. To do so, Hudgins knew, would have cost him his job, if not his life. That, of course, was the problem.
What a time now for The Post Covid Church to stand out. For the churches to unite not just on the easy stuff—-condemning rioters taking over our Capitol—-but on the hard stuff: Promising to lead their congregations in uncomfortable conversations about the role of Christians in the culture. How we are to engage and challenge, in a loving way, those in our own church who share political party affiliations but whose views and actions contradict the Bible?
Those of us who refuse to condemn the actions that if taken by a member of the "other party" would cause immediate condemnation.
Those of us who look away from the inconvenient reality of how precious each and every life is to God. Born and not yet born.
Those of us who won't see the barriers to a fulfilling life that remain erected in the path of so many.
I'm not talking about embracing Critical Theory, the philosophy that has escaped from college campuses and has taken over the social justice movement. It replaces the Biblical idea of justice with a Marxist inspired version that rejects the existence of truth and looks only to condemn and divide. I'm talking about difficult discussions that force us all to look closely at our walk.
This is a time of unprecedented disruption in the church.
Why not take advantage of it, and really disrupt, for Christ?
Christ and Chaos
Our nation—-the beacon of freedom, justice and what is possible for a quarter of a millennium—- was turned upside down as the US Capitol looked for all to see like a third world country; complete with an elected leader inciting a mob to storm the seat of the Republic's power.
I had the pleasure of studying under Chuck Colson, the disgraced Watergate conspirator turned Prison Fellowship founder who winsomely shared the Gospel, and what is only possible through the blood of Christ, with men and women around the world. In the darkest prisons. In the highest seats of power. One of the many things he said that rings so true today:
"The Kingdom of God will not arrive on Air Force One."

-Chuck Colson
Christians nod their heads, "Amen". Then race back into their political corners, slamming all who disagree. So, the "lost" shake their heads and reject all that Christ has to offer.
The political divisions that haven't been this stark since the Civil War are replicated in the Christian church, rendering it as divided as our culture and failing in its call to be "salt and light". Why?
Because unlike Christ, Christians on both "sides" refuse to stand up and call out members of their own "team" whose words and actions conflict with God's. Sucked in as political pawns, afraid to hold God's Word above a politicians'. So here we are.
The only solution is Christ.
So what's The Post Christian Church going to do to prove it?
Calling The Church To Thrive
Much of the church focus during the pandemic has been on survival. For The Post Covid Church project, however, the key is not just surviving but THRIVING. John Stonestreet is the President of the Colson Center for Biblical Worldview and the host of Breakpoint. He says as long as local churches are satisfied with simply being a community of Believers, they are unlikely to survive. Nor, does he think, it really matters if they do.
You can listen to my entire conversation with John on The Post Covid Church Podcast, bit.ly/postcovidpodcast.
"We Needed To Change"
The Post Covid Church that doesn't just survive but thrive will look and act differently because leadership changed and grew. Bishop Ronnie Crudup, Sr. not only leads a 3,500 person mega church he also is presiding Bishop over two dozen mostly rural Mississippi congregations for Fellowship of International Churches. The experience has humbled him, and he's grateful for it.
"This thing is stretching us, pushing us, forcing us into circumstances that we may not have been as comfortable in the very beginning. We're going to come out of this so much better."

Bishop Ronnie Crudup, Sr.
As you'll see in this short video, this means changing what ministry is and knocking down walls. You can listen to my entire conversation with Bishop Crudup on The Post Covid Church Podcast bit.ly/postcovidpodcast.
"Bringing Judgment Upon His Church"
It's been too easy for the church to point to the pandemic induced shutdowns as the cause of its problems during 2020. For Bishop Ronnie Crudup, Sr. that's the wrong approach.
"If we don't humble ourselves, if we don't learn these lessons, then we get moved."
Bishop Crudup is Senior Pastor of New Horizon International, a 3,500 person church in Jackson, MS and Administrative Bishop for The Fellowship of International Churches. He is "excited by the faithfulness of the people". He's also, however, more aware than ever that God is in control and not us. Not even a Bishop.
In this short video, you'll find out what God has warned Bishop Crudup about.
You can listen to my entire conversation with Bishop Crudup on The Post Covid Church Podcast bit.ly/postcovidpodcast
Optimistic About The Post Covid Church, IF……
Post Covid Church contributors have repeatedly warned against the idea of thinking church can return to normal; there is no going back. So, what does the future hold? Change of course. Also, rethinking church in the wake of the pandemic.
"This is a chance to bring new life and new hope to communities across the country."
Greg Ligon, who has served churches and leaders for over 30 years, is impressed with how so many churches pivoted, and is excited about what is coming. He warns, however, that leaders can't be too focused on returning to their buildings.
https://www.christianpost.com/news/churches-must-lean-into-covid-innovations-greg-ligon-says.html
Blank Slate: Time To Act
The silver lining to the pandemic is the ability for strong church leaders to quickly make needed changes. Dr. Thom Rainer's focus as Founder/CEO of "Church Answers" is to help church leaders more effectively lead and serve. In this short video, he notes the three most important things a church leadership must do now to ensure The Post Covid Church stands out.
Listen to more ideas that work on The Post Covid Church Podcast with Dr. Rainer bit.ly/postcovidpodcast
After The "Covid Wilderness"
It may be comforting for Christians yearning to "return to normal", but the reality is the church was shrinking in many ways, including influence, long before the doors shut. That's why
Dr. Thom Rainer, a church leadership expert, says we're in the "Covid Wilderness". He likens it to the time when God's people, freed from Egyptian slavery, wandered. Just as many of those reacted to hardship by asking to return to what they remembered as the safety of slavery, so too are many Christians today—-including far too many in leadership positions——pleading for a return to the past.
Dr. Ranier, Founder/CEO of "Church Answers", a church leadership training group, says in this short video that now as then, it's the wrong approach.
Listen to more challenging ideas on The Post Covid Church Podcast with Dr. Rainer at bit.ly/postcovidpodcast
Leadership Keys For Thriving Churches
The mission of The Post Covid Church is "Helping the church plan and serve the post pandemic world." This means sharing insights and ideas to help the church become stronger. (An easy way to review earlier posts is visiting thepostcovidchurch.com website, where the posts are archived by categories.)
Future impact also means stronger leadership. As previous posts have illustrated, the church was weakening before the pandemic upheaval.
Dan Reiland focuses on developing church leaders. His recent column showcases the traits he says will exemplify the thriving Post Covid Church. Thanks to Group member Iris Smith for sharing this article with me.
"Run Towards The Roar!"
The pandemic is making all of us reassess not only what's truly important in life, but also what it means to live by faith. Suddenly, even the concept of "church" is upended. John Robertson is a crisis management expert, and a former pastor, who is well positioned to help The Post Covid Church thrive through taking this extraordinary opportunity to help staff and laity discover their strengths and use them for Christ. FORTLOG Services is John's Canadian based leadership development company. As he explains in this short video, it's critical that we all all "run towards the roar".
Oops: Let's Not Forget This….
The Post Covid Church is here, as the mission statement says, "To help the church plan and serve the post pandemic world." That means lots of suggestions, critiques and warnings. The Christian Post column linked below, "6 Covid-19 Controversies in Churches Today" by Thom Rainer, CEO of Church Answers, not only has terrific observations, it also includes an important reminder.
https://www.christianpost.com/voices/6-covid-19-controversies-in-churches-today.html
Churches Facing Reality?
The latest Lake Institute on Faith and Giving survey shows two out of three churches taking federal money to help stay afloat as giving dropped, re-opening doors depended a lot on the political bent of a congregation and few churches seem to be preparing for a colder reality.
It's a survey of 550 congregations that are partners with the organization. So, it's not a randomized sample, but it is a diverse group of nationwide churches and provides a snapshot that is illuminating and raises as many questions about The Post Covid Church as it answers.
While none of the responding churches planned an increased budget for 2021, few were cutting staff even temporarily in light of fiscal uncertainty. What is left unsaid is how many leaders are changing the duties, responsibilities and expectations of staff? Many budgets have been propped up by one-time federal largesse. There are fewer people in the pews now, with a return pre-pandemic attendance unlikely for months, years or ever.
If an organization does not effectively "look around the corner" there will likely be unsettling surprises. Those churches that have not pivoted, kept in close contact with members and reached out into the communities during this crisis face more uncertainly than many are willing to admit, or even think about.
Thanks to Group member Clyde McDonald for sharing this study. Highlights:
52% of the responding congregations said participation is up. I'll caution: The churches were comparing on-line viewing data with actual attendance from the year before.
42% of congregations reported giving down, with the rest evenly split between those reporting giving up and those saying it stayed the same.
Overall giving was down 4%. Catholic and small congregations were hit the hardest.
65% of the surveyed churches took Payroll Protection Program money from the federal government. 52% of evangelical churches and 93% of Catholic parishes applied for the funds.
Only 8% of responding congregations said they decreased donations to missions, service or benevolence programs, with 30% reporting that they raised funds for other churches and organizations in need.
Only 14% said they anticipated even a temporary cut in staff, with more than half planning a flat budget next year.
As for reopening: While the survey was recently released, the data were gathered in July. At that time, 71% of conservative congregations planned to reopen in Aug, with just 20% of liberal churches planning to open.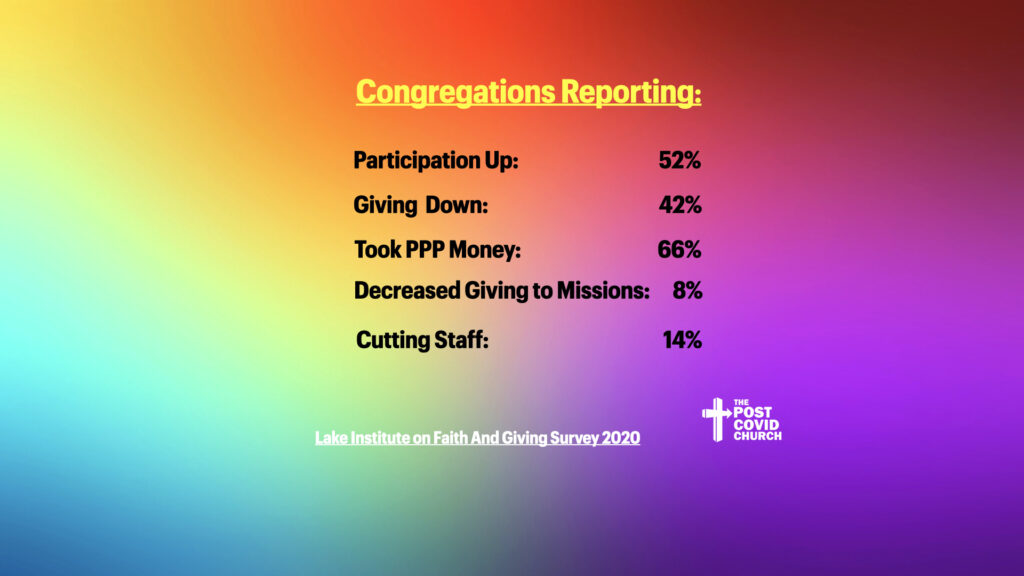 Click here for the full survey
https://philanthropy.iupui.edu/institutes/lake-institute/covid-study.html
Digital Development
It's clear now that The Post Covid Church will not be "going back to normal", with most leaders planning for an acceleration of digital options even when the doors are fully open. The premise of this project is that "turtle churches", hunkering down and waiting for normal return, will be run over by reality. Several recent guests have explained how their churches quickly pivoted, with most adding digital duties to the workload. It's clear that staff and lay leaders will have to adjust to make sure their congregations stay connected.
Here are some recent Barna research results from the company's "State of the Church" polling of pastors that confirms the wisdom of those leaders who are changing to stay connected, with the vast majority planning to stay digital from now on.
Church Leadership: Tough Questions
One of the key focus points of The Post Covid Church is the importance of a strong leader to guide the congregation not just through the pandemic, but into a place where the organization can thrive at its core mission: making disciples.
While surveys and comments on the site have illustrated the many instances where this leadership is lacking, there are even more examples of churches taking creative approaches to serving. (I invite you to scroll through the posts, or check out thepostcovidchurch.com website to see the archived material under the "Leadership" tab in each location.)
A recent Wall Street Journal article focused on lessons in crisis leadership within businesses and the military. The comments struck me as not only applicable to churches, but critical if The Post Covid Church is to grow in influence within the culture. Key take aways:
"You've now got to make every part of an organization and every person's mind adapted to the idea that you're going to have to be constantly adjusting."

Army Gen. Stanley McChrystal, former top commander in Afghanistan/co-founder the McChrystal Group.
Examples from leaders interviewed for The Post Covid Church: Delegating responsibility to staff to contact every member. Adding small group oversight functions. Finding cost effective teaching material to share with families during the shutdown.
"The thing to do is not pretend that the old system just forced into the new system is going to work. They're pretending that they're start-ups. No matter how much success they've had in the past, no matter how big they are, they're saying 'OK, this is day one…."

Simon Sinek, executive coach who wrote "The Infinite Game" and "Leaders Eat Last."
Examples from leaders: Moving from weekly to daily Zoom staff meetings to make sure all the leaders understand the new direction/goals. Tapping members with special communication/technology skills to build new ways to connect. Asking community groups where the needs are and mobilizing staff and lay members to address those needs immediately.
"Crisis is the great revealer. Humility is being open to the ideas of others. The most successful pivots are happening when we include the rank and file."

Simon Sinek, executive coach who wrote "The Infinite Game" and "Leaders Eat Last."
Examples from leaders: Opening new modes of communication with members. Over communicating. Expanding outreach to other racial groups. Making service part of membership. Taking service ideas from members and giving them responsibility to follow up.
Is your church stuck in the "that's how we've always done it" mode?
How have the leaders approached change: afraid or invigorated?
Is membership more engaged in the midst of the pandemic, or less?
Wasting Talents
A recurring theme from contributors to The Post Covid Church is the need for pastors to do a better job of letting go of power and more effectively . I came across a recent Barna survey that proves a large percentage of practicing Christians know God has gifted them, are willing to use their gifts, but aren't. Church leaders: There will never be a great need, so tap the talent!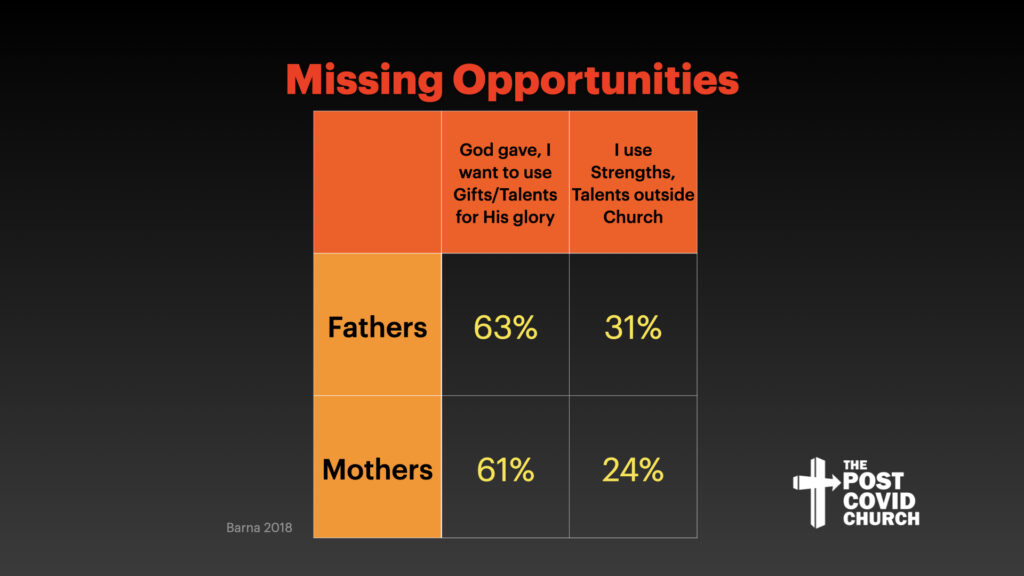 Damning Results from the Planning For The Future: Are You Included? Survey
If the Post Covid Church group members responding to the latest survey are any indication, the answer to the question above in a robust NO.
Only 15% of respondents said his or her church has shared fall plans with members. (It's almost Labor Day, folks!)
More than nine out of 10 haven't been asked for input.
The most hopeful news from the survey: More than two out of five respondents say their churches are expanding on-line options for worship, teaching and children.
This survey follows others from The Post Covid Church group and nationally that illustrate the disconnect. (For example, one out of three practicing Christians no longer worshipping, 1/2 of members saying they haven't even heard from their church.)
The unfortunate fact: An increasingly isolated body that is not likely to return, but more importantly, is hurting.
"Isolation is a diabolical form of torture, the more isolated the more trauma results," says Dr. David Wadner, a retired clinical psychologist who spent his entire career treating individuals in the Chicago area. "Particularly dangerous for children and the elderly. Healthy, stable adults will begin to experience depression after a surprisingly short amount of isolation."
Does Dr. Wadner think churches should launch programs linking up with clinicians? "I don't think professionals are the answer. What we all need is to return to the level of socialization that provided us with a sense of connectedness and belonging…. I think the church reaching out to its members is the first step, even if it's just a phone call, let them know they aren't forgotten, that they are still a valuable part of the collective."
Dr. Wadner shared with me clinical studies that illustrate the importance of simple interaction.
"Yes, I think regular people who care about their neighbors and friends can handle 90+% of this kind of thing."
It's not too late to connect. In fact, this might be the perfect time.Share the information from this site. Reach out on your own. Encourage church leaders to do more. Will there ever be a better time for The Post Covid Church to answer the call?
The "Intolerant" Church: A Post Covid Challenge
Any crisis focuses the mind and inevitably accelerates change but it's fair to say that we've never seen such a change accelerant in our lifetimes as this pandemic. Unfortunately, the ripple effects include social disruptions that our nation hasn't experienced in half a century, and the two are exerting unprecedented pressure on the church that will impact its witness for generations. That pressure includes an increasingly intolerant, secular culture that is gaining influence, twisting meanings and portraying orthodox Christian beliefs as dangerous and needing to be marginalized if not criminalized.The idea of tolerance has, like a scene in Alice in Wonderland, been turned on its head.
Tolerance in the modern era, which means before a generation or so ago, meant that while there was always room to allow for a difference in views in America, few argued that facts don't matter.
In the post-modern culture, we moved to tolerance meaning everyone could have their "own truth". This meant you HAD to accept anyone's views, even if not supported by facts.
We're now in the post-truth era. Unacceptable views, even if true, are not just rejected. By holding such "uncomfortable positions", you will be mocked, stigmatized or even persecuted because these views are offensive to someone's feelings. Someone with power.
Here's just one example: Every piece of data I've ever seen shows that growing up with a married mother and father throughout childhood means an individual will be statistically much less likely to be in the trouble with the law, drop out and live in poverty. (For instance: 63% of youth suicides, 48% of children living in poverty, 71% of high school dropouts, and 90% of homeless children are fatherless. Data from "Them Before Us" organization.)
Yet, how often is impact of fatherless homes included in a public discussion about poverty, crime and economic opportunity?
Where does this leave The Post Covid Church? If it follows orthodox Biblically based beliefs about sex, sin and salvation, it will be marginalized, or worse. That will drive some from the pews. It will mean standing for Biblical truth will be more costly. It will mean understanding why you believe what you belief, and how to live it, will be more important than ever. Just one more reason for The Post Covid Church to focus.
Back Into Our Corners, And Losing Influence
What was so striking about the peaceful protests after George Floyd's killing was not just the multi-racial audience make up across the country, but the near universal condemnation. It wasn't just the damning video evidence. There was something deeper that connected: There is something still wrong with the justice system and race relations.
The good news for The Post Covid Church: Our worldview is the only one with the answers to the problem.
Unfortunately, it seems as if folks are now settling back into their "comfortable corners". From both sides, the "Yes, —— is a problem, BUT —-" is now the default position. If The Post Covid Church is to regain the cultural respect and influence it once had in this nation, it will take pastors and members standing up and taking biblically based, uncomfortable stands.
Confronting BLM and the Confederacy: What Would Jesus Say?
Christ was direct, told uncomfortable truths and demanded uncomfortable sacrifices. It's easy to cheer on His many challenges to the Pharisees, whose rules he challenged by looking at their hearts. What we sometimes don't want to remember is that even those he comforted, he then challenged. To the woman caught in adultery, but saved from death, "Sin no more." To the pious rich guy, "Sell all you have." Oh, and what about all of us being called to "Take up your cross and follow me"?
The theme: Making everyone uncomfortable by His call, and how counter cultural and demanding it is.
So, why doesn't the African-American Christian say, "Of course black lives matter, and I call on our government to change. But to embrace all the dictates of the BLM movement is antithetical to my life in Christ. For example, calling the nuclear family of a married man and woman raising children as 'Western prescribed' and worthy of destruction runs counter to the Biblical mandate I follow."
Similarly, can the white Christian not say, "Of course our freedom as an American allows me to fly a Confederate flag. But, since it is an affront to my black Christian brothers and sisters, and to those not in the faith who we are called to disciple, I'm going to give up my right to support a symbol that is divisive."
Christ calls us out of our corners. We're going back to them, and that's something The Post Covid Church cannot allow if it wants to stand out to a searching world and stand up to hate.
"Whistling Past the Graveyard": Ignoring Disturbing Trends
Barna Research has been polling pastors since shortly after the pandemic induced shutdowns, assessing how churches are adjusting and getting a feel for what The Post Covid Church will look like. Recent "State of the Church" findings paint an ominous picture. A picture most pastors don't see.
Early in the shutdown, almost 1/2 of the pastors said they had more people watching their on-line services than pre-pandemic church attendance. Most recently, however, 3 out of 5 say they have the same or fewer viewers. Looking more closely, I see that most pastors are using a "multiplier" to estimate the number of people watching. So, what's clear to me is that while the highly produced, effectively marketed congregations are drawing big virtual crowds, the typical church now has fewer people watching from their living rooms than came into the pews. I see a clear cause based on the same surveys:
Only 1 of 3 churches distributing food and supplies to the needy.
Only 1 in 5 reaching out in any way to the elderly, isolated and at risk community.
1 out of 4 churches had no organized response to needs.
1 of 3 pastors say giving is down.
Yet, here's the kicker:
95% of the responding pastors are confident that their church will survive.
Church attendance has been declining for years, and now, with three months of mandated separation, it will be tough to break the habit of watching at home, or not being part of any congregation. Those churches that did not reach out, to stay connected, will find it doubly hard. It's more critical than ever that churches mobilize all of their resources, including the laity, to strengthen congregational bonds that enable The Post Covid Church to engage an increasingly disconnected culture.
https://www.barna.com/stateofthechurch/
Reality is Hitting: Empty Pews that Won't Be Filled
As church doors slowly reopen, the reality is hitting home: A lot of folks aren't coming back. Of course, many are not yet comfortable enough to take part in socially distanced gatherings. More are plenty comfortable, as pastor Devon Adams put it, "with their cup of latte and coffee in their PJs sitting on the couch watching church on TV." Even more are searching elsewhere, or more disturbingly, are not bothering because the frayed connection they had with their home church was allowed to break.
Those "turtle churches" that have done little to hyper connect with members or reach out to the hurting community are finding themselves abandoned by members and increasingly irrelevant in the minds of the seeking culture.
Those that leaned in, and engaged, are coming out of the shutdown in a much stronger position.Rolling Hills Community Church has three campuses near Nashville TN, with pre-pandemic attendance of 2,500 a week. Lead Pastor Jeff Simmons and his staff already had a virtual presence, and ramped it up when the doors shut, producing special services for various age groups and using Zoom to connect with kids. Even more impressive was the decision to immediately ramp up outreach, focusing on local missions. "We had a different group focusing each week. First week, we identified a lower income area that needed Chromebooks for kids to learn." With school going virtual, word went out to the members.
Next, $5,000 was raised so a small church devastated by the spring tornado outbreak was able to pay its deductible.The outreach meant more than giving money. When more storms tore through the area, a team of church members mobilized to help elderly residents clean up. Others provided food. A pleasant surprise through all this: Giving is up. As is viewership, with folks tuning in from 43 states and seven countries.
What's the "secret sauce"? Connection.
"Social media has been a great tool to mobilize the church and keep connected. We're learning more than ever about the power of technology. How to share with more people and keep members discipled and engaged." That engagement meant more outreach to help the hurting.The doors of Rolling Hills open this Sunday. Pastor Simmons doesn't know when attendance will approach pre-pandemic level. But, he is convinced it's a stronger congregation, because of the work to stay connected and to serve in this time of need. While it's not too late, if those "turtle churches" don't pivot quickly now, they'll not only continue to lose members, they'll also lose the opportunity to survive in order to fulfill their mission.
Only The Church Can Cure The Racial Divide
The relief as violence subsides in cities across the nation should not be a signal that all is nearly well, nor getting back to "normal". Just as there will be no getting back to normal in how the church lives and breathes after the pandemic ebbs, there be no "back to normal" for race relations. The broadcast of George Floyd's death, the smug, arrogant face of his killer, didn't just shock, it jolted. Not just black, but white. Humans. Apart from the violence and looting—-far apart from this appalling, unjustified destruction by criminals and anarchists—-is the explosion of anger and frustration.
There is no law, no program, no candidate who can fix this. Only The Post Covid Church.Bishop Joseph Campbell is not surprised by the anger. The lifelong Mississippian oversees 42 Church of Christ (Holiness) churches in the state and grew up through the violent break up of Jim Crow laws. Yes, he's seen social and economic advances in the state and nation while ministering for 35 years in African-American churches. The recent nation-wide protests, however, are opening eyes.
"So I see what we're dealing with now enhancing the conversations, making them real, dealing with what we're seeing on the TV. It will help us better identify with each other."

Bishop Joseph Campbell
He knows that it won't be easy. For almost a quarter century he's worked with Mission Mississippi, a Christian group working across racial lines to help unify the body of Christ and the state. A key: learning "how to engage other people in the conversation without being negative." He see more church cooperation in the future. But, it will take more.The world is watching. China, Russia and Iran are laughing at our conflagrations, hurling their own Molotov cocktails of insults and charges of hypocrisy. Americans with no connection to any church are watching too. They're fearful and worried that the new normal will be violence and unrest. Deep down, they know another program or speech will make little difference.
What a chance for the church. It will take commitment.
Will it be a priority for Christians to listen, seek and work to find common ground with those who don't look like us? Will pastors change the playbook from the last time racial violence racked this country? It took until 1995, on the 150th anniversary of the Southern Baptist Convention, for the group to apologize "for condoning and/or perpetuating individual and systemic racism in our lifetime."
Will pastors of all colors and denominations be willing to make it a priority, and make all of us face uncomfortable facts?Will The Post Covid Church be willing to take risks, to try things?It will only work one by one. Church to church. Pastor to pastor. Member to member. It has to be both black and white churches making the first step. Both.The norm is for everyone to go back into their ideological corners after the fires are out and the rubble cleaned up. That's not biblical. It won't work.
The Post Covid Church is to have an impact, it will have to reach out.The leaders I've spoken to whose churches will not just survive but thrive have repeatedly told me they are leaning INTO this pandemic. They see it as a chance to truly be the hands and feet of Christ. Will the church do the same in the face of an enemy that will persist long after a Covid-19 vaccine is found? The world is watching……
"Disruptive Innovation" Means Tearing Down Walls
Pastor Adam Ponder exudes the leadership skills needed to enable The Post Covid Church to not only survive the pandemic related challenges, but thrive while engaging a hurting culture crying to understand. Ponder's excitement about taking advantage of this crisis to serve Christ is infectious and his unrelenting push to engage the laity a lesson for all church leaders.
Ponder is lead pastor of GracePoint Church, and this crisis has allowed his vision for what a church must be to come into much clearer focus, more quickly, while serving its members and community north of Asheville, NC. The key leadership take away: Preparation leading to Action.
"The first phase, stop the bleeding, but let's also talk about what we want to create as a result of this that is 'pandemic proof.' What is God saying to us, not just so we're a better on line church?"

Pastor Adam Ponder/GracePoint Church
In other words, is this an opportunity to break down walls? The answer, an emphatic YES."The Lord was giving us an opportunity to have healthy conversations of who we are. What if we couldn't gather on Sunday morning?…What can we do in this season to implement what we knew would take years to do under normal circumstances? Strength is not our ability to gather but to scatter. A church on mission."That meant engaging the church.
Immediately after the shut down, 50-60 lay leaders started virtually meeting with staff every Wednesday to plan and implement.
"If we come out of this saying we're better on line church we've missed an opportunity."
The pandemic's silver lining was pushing forward the mission of the GracePoint; to equip and empower the members to disciple outside the church walls. Suddenly, there was no choice, and GracePoint became an even more effective Priesthood of Believers. "I've championed getting ministry out of hands of paid professionals and into the hands of every man, woman and child. Equip and empower them to be the church where they work, learn and play and not just come to church. The reality is, where ever we are, the church is."
Pastor Ponder's vision goes beyond reaching the lost and hurting in his corner of the Tar Heel State. GracePoint has two locations now, with a third soon to open. Other church leaders shouldn't look at it as competition. Far from it. To Ponder, The Post Covid Church will be more unified. "We think it's very clear, that every man, woman and child's responsibility is to respond to the Gospel. If that's what the Lord wants, it will require all of us. If churches don't see themselves as partners after this instead of competitors, it's sad day."
When Old Tech Trumps New Tech
Churches that were streaming before the pandemic hit had a leg up in keeping a worship relationship with their members and visitors after the doors closed. The smart churches, the churches that will survive and thrive in the "new normal", realize that streaming and polished on-line services are not nearly as important to the Kingdom as hyper-connectivity.
Dr Keith Grubbs, senior pastor at Park Place Baptist in Pearl, MS knew he and his staff had to focus on the congregation as the pandemic spread. "We would be negligent if we weren't reaching out to them providing them a way to stay connected." The church recently upgraded to HD, adding equipment that not only provided a sharper picture, but also allowed them to reach out more effectively with social media.
"As I began to process this new way of doing ministry without an end in site, God led me to see it as an opportunity and not something that should handicap us, but an opportunity for us to enhance our fellowship, relationship and connections with our church members."

Dr. Keith Grubbs/Senior Pastor Park Place Baptist Church
That meant at least one live stream a day, six days a week, focused on children, teens, seniors and the general membership. The staff never forgot, however, that people needed to be touched. That meant calling and texting. It kept the thousand-member church connected.
Pine Lake Church is more than ten times as big, with six campuses across Mississippi. The technical sophistication honed by years of streaming the pastor's message from the home base in Brandon meant it was easier to pivot technologically during the crisis. While the worship service is entirely pre-produced, viewers can interact live, one on one, with staff and trained laity. This means answering prayer requests or just talking. This is cutting edge, but not the focus for senior pastor Chip Henderson.
Called more than once. "There were wonderful God moments. People said, 'I can't believe you called me today, of all days.'"
Across the country at LA's 2400 member BelAir Church senior pastor Drew Sams got a head start, having already decide to record his services a day before California went into lock down. He said yes when a member, who happened to be a TV and movie director, offered to upgrade the production value. The focus, however, remains on the people.
"Connect, Equipped, Cared for: Those are the key three verbs."
Staff and members reached out by phone. Those who needed help had groceries and prescriptions delivered. "Rather than get hung up on the forms of church, we've kept our focus on Jesus. It's a great time to share the Gospel if we're willing to be open to different forms of gathering to be the church while the focus is on Jesus."
These three churches, like so many in the US, let worshippers join electronically. The leaders know, however, that to truly remain a church in these separated times, the energy and focus must be on staying connected personally, even if it means using technology from the 19th century. Have you gotten a call from anyone at your church?
The Uncomfortable Reality of Church Marketing: You're Doing It Already
"Marketing" and "Church" may be an uncomfortable pair to you, but the reality is, when you think you're NOT marketing, you ARE. Marketing is letting people know the value of your church.
Turtle churches are letting people know, "We're not changing, we're not taking this disruptive time as an opportunity to connect and reconnect with members and our community."
Churches that will survive and thrive are pivoting, and enhancing their "brand" through innovation and hyper connections with people."This is forcing churches to go back to Biblical ways of connection," Bishop Ronnie Crudup, Sr. told me. The Senior Pastor of New Horizon Church International in Jackson, MS used Chick-fil-A as an illustration.
"If you don't have the best tasting food, it's the service you give that will secure your place. One of the end results is some churches will lose market share and some will go out of business. It comes back to the ability to serve the people."

Bishop Ronnie Crudup, Sr/Senior Pastor New Horizon Church International
His 3500 member church has an active small group component, which made connecting through this crisis easier.The turtle churches that are not reaching out and making sure they're hyper-connecting with their members will lose out. One reason: streaming services makes visiting other churches too easy.
Dr. Kevin Watson, the evangelical Asst. Professor of Wesley and Methodist Studies at Candler School of Theology at Emory University writes extensively about small groups. He applauds churches going on line, but unfortunately, those who haven't done it for a while may be at a disadvantage. "There is no inconvenience to go to the 'best one'. Those going on line to churches with better production values and music, particularly around the younger generation, may leave if they don't have deep ties or loyalties."
It's no surprise that the author of The Class Meeting: Reclaiming a Forgotten (and Essential) Small Group Experience, says if he were pastoring he would immediately launch and expand small groups, even though it means connecting virtually, in order to strengthen the church bonds.
Sitting in your living room and going to church has never been easier, nor have the connections that in the past that would keep members in place never been weaker.
The best antidote: Not more lights and sizzle, but stronger connections with your members NOW. What have you seen churches doing differently to their 'brand' by growing closer to their members and community?
Is Your Church Adjusting?
No one envisioned the pandemic tsunami that has upended everyone's life. Certainly no church can be faulted for not having a government ordered shut down plan! BUT, the process of always looking ahead—-always planning—— is the sign of strong leadership.
The 'turtle churches', hunkering down, adding a live stream here, remote giving there, are really just hoping and praying for things to return to some kind of normal. That's not happening.
The churches responding to this major upheaval by leaning in, looking at it as an opportunity and strengthen their ties to members and the community are throwing out the playbook and adjusting. Example: Instead of shutting down their outreach programs, they adjust. So, you can't invite the needy in. Do what Pine Lake church did in Flowood, MS: Folks who were already registered for help, came by and picked up the food in the parking lot. Those newly needy filled out a simple form, indicated how big the family is, and got corresponding bags of food. Could folks 'game' the system? Maybe, but there are folks who never thought they'd need food who now have hungry kids. Pine Lake saw that as the most important thing. Oh, and after the food was in the car, the servant leaders asked how they could pray for these hurting people.
What are you seeing 'lean in' churches doing in your area? Let's share ideas that work. This crisis is just beginning. Yes, things are opening up, but there are thousands in and around your community who will be without work, and after the benefits run out, without money for months to come.
Turtle Churches Beware
No facet of America will be more changed by the Covid-19 pandemic, and is less prepared, than the church. While some hope and pray for another "Great Awakening", it's more clear than ever that instead we will see attendance and giving accelerate their downward spiral.
The silver lining? While there will be fewer churches, those bodies of Christ left standing and thriving will be more resilient, and have more impact, than we've seen in generations.
Those I deem "Turtle Churches", who are in a defensive crouch, pulling in, and doing little to respond to this seismic shift, will be shocked when the new-normal hits.
Turn In or Reach Out
Did your church quickly pivot, looking at the pandemic and shelter in place orders as an opportunity, or did the leaders shut down, look in and pray for the best? The "Turtle Churches" are all around us. The Colson Center's Bill Brown put it to me best,
"God almost always speaks through disruption".

Dr. Bill Brown/The Colson Center
His church gathered together, staff and lay, then ASKED the community what was needed. The small groups simply moved on-line. There was excitement: "We can touch this community more than ever!"
Other churches, understandably concerned, hunkered down. Oh yes, they streamed. But what else? Did they marshal the lay resources, make sure they communicated more than ever and look for opportunities to serve? Or did they shut down outreach services? Did they spend more time figuring out how to apply for, and justify, federal bailouts than they did proclaiming the Gospel and touching their fearful, hurting members?
Doubling Down
Fear grips the nation. What's the church doing to answer the cry? A 20-thousand member, five location church I know about is making sure every parishioner is called—-old fashion called—-to check in and gauge needs. This not only makes an impact on the recipient, it better connects the Body.
The turtles say they don't have enough staff, even though no one is allowed inside the church.
The faithful churches are getting word out in all ways possible. That includes quick devotionals. Text reminders that they are available. Regular, sometimes daily, e-mail updates and social media posts. Those are the churches that will come out of this pandemic with stronger bonds with members. (Even if not all were read, the members knew they were sent!)
Accelerating the Curve
The last great disruptive event in America was 9-11. The stories of filled churches in Metro New York and around the country were eagerly repeated. Unfortunately, the attendance levels soon dropped, and in fact last year only 45% of Americans went to church even once a month, according to Pew Research. What makes you think when the church doors open that more people will show up?One way to make that a better possibility: Shout the unique message of Christ!
Think about it; in the face of a major world-wide pandemic, which worldview makes more sense and is more hopeful: The one that recognizes the reality of a creator God who loves His people and stands with them in the darkest hours or the one that says that all this around us is all there is? The churches that fully equip their followers with the Truth will shine through into the community no matter the circumstances. Those selling a watered down, culturally appealing, feel good theology will find once the pandemic has ended that their wayward flock is more confused and lost than ever.
Preparing for—-oh my——CHANGE!
Turtles churches aren't changing right now, with staff hoping and praying all will return to 'normal'. Fact check: Normal is gone. Forever. Walls better start coming down now. That means taking inventory of all the gifts in the congregation. Unfortunately, far too few church leaders identify and use the talents found in the pews. Most churches will take a financial hit; it's hard not to with unemployment ballooning. The churches that survive will have a flattened bureaucracy and a more involved laity. The fortunate churches will get to shelve their not-yet started big construction plans. The most vulnerable have too many staff members and a mortgage.
Old Folks: What's the Plan?
The last people to return to church will be the older, more vulnerable. Will they want to sit in a crammed Sunday School room for an hour, two feet apart? The smart churches know the older folks do most of the service work. Will they be willing and able? The smart churches are already making plans for wider spaces and are identifying the younger members who will be willing to step up and serve. Too few people serve now, most satisfied to be entertained. That's not biblical. The message needs to be coming loud and clear: Church means change.By the way: Those older members probably make up a disproportionate amount of giving. Turtle churches are waiting to be called and asked for help. Why not reach out, see if they need supplies, and ask if they need technical help? Get young, tech savvy members out to connect them. Think that will make an impression?
While at home….
We've all heard about the benefit of family time. The long lost habit of family dinner is coming back. Where is the church? The smart ones are providing material to facilitate family prayer and Bible time. An added benefit: Re-establishing adult authority. That's kinda Biblical. It will hopefully build new habits that the surviving church will emphasize..The late Christian thinker, teacher and prison ministry champion Chuck Colson loved to point out that the ancient church became the culture-changing entity because of catastrophes. Plagues in ancient Rome decimated cities, with the wealthy fleeing to their country estates. Christians, believing all men and women were created in God's image, went into the streets to help the sick and needy. Yes, some died. But the church exploded because the lost were drawn to these Christians giving of themselves in joy.
As we pray for a cure and vaccine that will make this deadly disease at least manageable, the churches that will survive and thrive are those embracing change. Being the "hands and feet of Christ" is a phrase often repeated. The Covid-19 pandemic is showing which bodies of Christ mean it.