Billions for Churches: More Details Coming
Joel Osteen's Megachurch Cashes In
The Paycheck Protection Plan was designed to keep people employed as the pandemic fueled shutdown ravaged the American economy. Republicans made sure religious organizations, including churches, could take the forgivable loans. While it raised plenty of questions about the wisdom of "rendering from Caesar", 90-thousand faith based groups lined up and took more than $7-BILLION federal dollars. Until recently, any entity that took less than $ 150-thousand couldn't be identified. Thanks to a Federal judge's order, that's now changed. The government is required to provide information from all takers, so expect more stories about local churches taking the money.
An earlier Post Covid Church post reported on the largesse, which included $5 million for Joyce Meyers Ministries. Now it's revealed that Joel Osteen's Lakewood Church grabbed almost $4 1/2 million. Not sure what's more amazing: That the megachurch took that much money or that the group has a paid staff of 368.
Here is a link to track any group that took PPP loans of at least $150-thousand. You can put in the organization's name or just the Zip Code to see who was approved in any given area.
( https://projects.propublica.org/coronavirus/bailouts/ ) While the SBA is now releasing details on the smaller loans, I have not yet found a similar link.
In a recent post, we saw that more than one out of four churches told Barna researchers that giving had decreased.  As we head into 2021, the financial pressure will increase, and this time there will be no federal safety net for The Post Covid Church.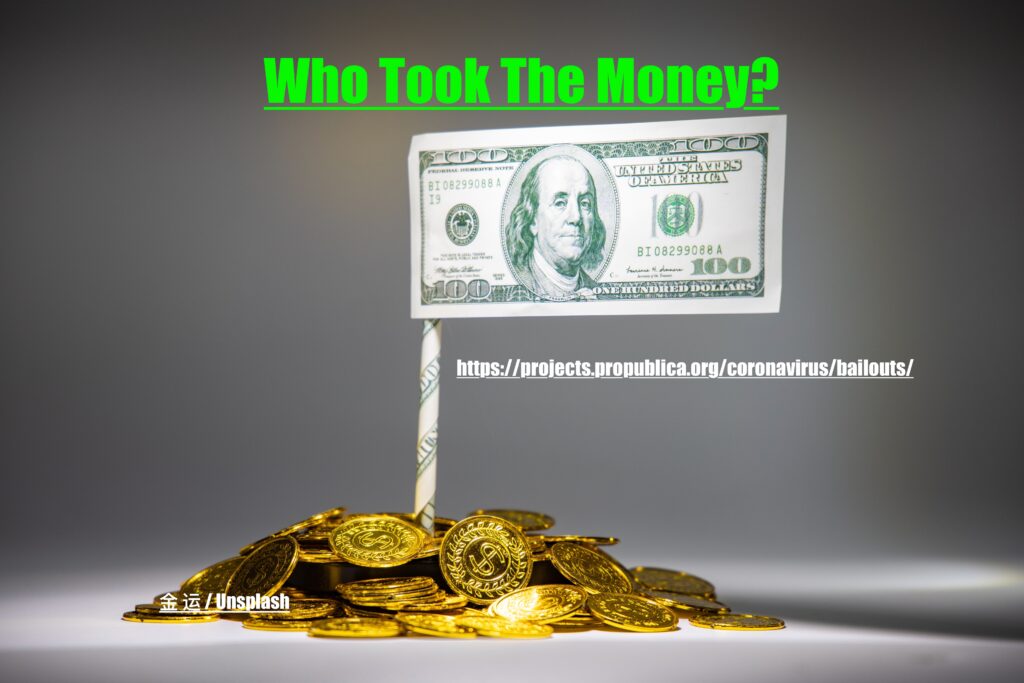 Church Giving: Surprised?
This summer, Barna research showed that one out of three practicing Christians, those who say the Christian faith is very important to them and they attended Church in the last month, had quit worshipping in person or on line. It's no surprise, therefore, that a vast majority of churches are struggling to keep income at least flat from a year ago. This information is from Barna's ongoing polling of pastors in the US.
Are you surprised at the number whose giving has increased?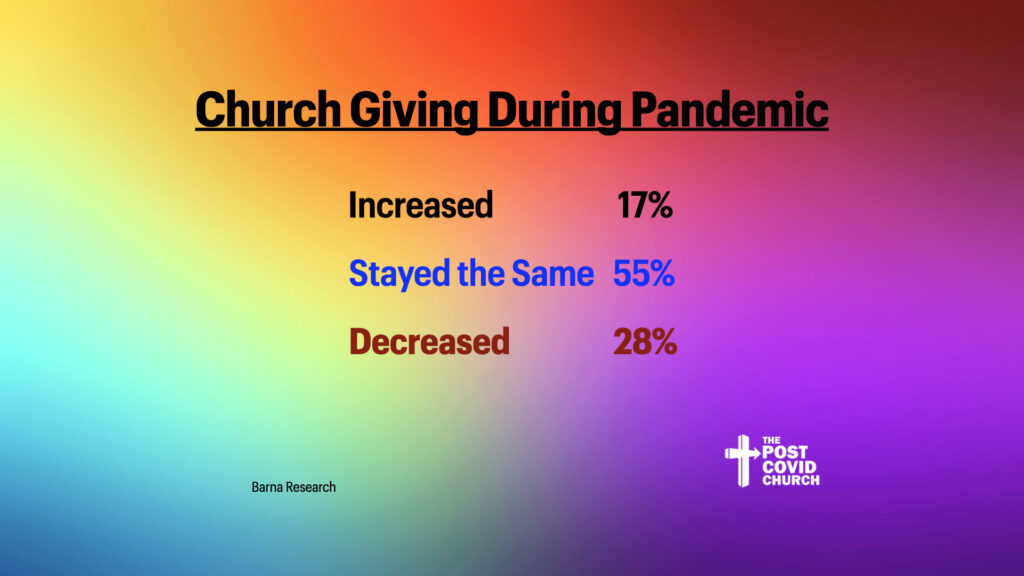 Seven Billion Reasons to Cringe
The clucking has now begun. I'm talking about those outside the church reacting to how much taxpayers' money churches took from the Paycheck Protection Program. It turns out tens of thousands did, grabbing more than seven-billion dollars. The bill writers were specific in allowing religious organizations to apply, but that doesn't make it look any better.
Especially when a megachurch like First Baptist in Dallas got more than one-million dollars, and Joyce Meyers Ministries more than five-million.
Allowing religious organizations, including churches, to take the forgivable government loans raised plenty of constitutional questions. The more pressing issue for The Post Covid Church, however, is how it will impact its witness.
Organizations such as the American Atheists of course quickly denounced the largesse. More problematic is that it is yet one more example of the American church looking just like the culture surrounding it.The Post Covid Church will have a tough enough time regaining lost influence in the culture. Now, all churches are tarred and will have one more distraction to explain on the battlefield of ideas.
Do you think churches should have taken the federal money?
Church Finances: Disturbing Outlook
The Post Covid Church survey on giving only had a few responses, but 75% said they're giving the same now as before the shut down. That's better than what is happening nationally. What is troubling is that many churches faced financial issues long before the shutdown.
Although the Paycheck Protection Program propped up tens of thousands of churches for a few months with more than seven-billion taxpayer dollars, the frightening growth of Covid-19 means more health and economic problems and uncertainties. This means many churches will not be able to stay alive.Givelify —company that allows churches and non-profits to accept on-line giving——launched a nationwide survey in May 2020 of faith leaders and their members.
The good news is that about half the churches said giving was flat or up since the doors closed. More troubling: Almost half said they were just getting by, or in financial trouble, before the pandemic. Almost half the churches report their giving these last few months is down.
One in four, saying income is down significantly.This problem confirms the National Study of Congregations' Economic Practices ('14-'17), published by the Lake Institute on Faith and Giving:
58% of churches spent more each year than they took in.
39% report not having enough in reserve to cover expenses for three months.
49% of the money is spent on staff.
Compounding the financial problems is the fact that so many churches have done so little to stay connected with their members and communities during the pandemic. A silver lining: It will take a much more involved membership to keep many churches alive. This may be exactly what The Post Covid Church needs to regain its long-held position of influence in a culture that's never needed us more.
The Financial Crunch: Unleashing Potential
While guessing the pandemic's economic impact on churches is as fruitless as almost all other recent predictions, we know it will be major. If not catastrophic. That's why the sharpest leaders are already well into re-thinking not just their budgets, but the entire church organization. This may even be the time when—-hold on now—- the professional church employees truly reach out, identify and embrace the skills sitting unused in the pews.

Tim Philpot, a retired Kentucky family court circuit judge and ministry leader, feels the pandemic is a wake up call. He now lives in Loxley, Al. and recently joked with a pastor who was about to launch a building campaign that this crisis just saved the man's church three-million dollars. "Church is people, not a building".

Philpot is the former president of CBMC International, an evangelism and discipleship group of business professionals, and currently chairs Fishhook International, an India ministry. He is a bit biased when it comes to church buildings. He and his wife Susan are small church folks; he feels a church is too big if every member doesn't know the preacher. He's also a big believer in small groups, meeting outside the church to grow disciples. "You're not going to get 'em (non-church goers) inside the building. Rather, get out into the culture."

Taking down the walls also means the post Covid church will have fewer paid staff. It's inevitable. It can also revitalize a congregation.
Philpot calls it "finding people on the back rows". Far too many senior church leaders are reluctant to identify and use talent that is all around them.The common staff complaint is, "nobody volunteers". The reality is the church professionals must be willing to let go of the wheel, empower the laity and share the spotlight.
One silver lining of this crisis—to keep the lights on, the turtle churches will have no choice. If they have any chance of surviving, they'll have to make major cuts while embracing and encouraging members to serve. It is biblical.
The churches adjusting and hyper connecting with members and the community are already tapping this almost unlimited resource. Future posts will showcase congregations that are connecting as never before because talented church members stepped up. Ensuring the church doesn't just survive, but thrives, means marshaling all the talent inside, and outside, the walls.